Saturday, 15 October 2005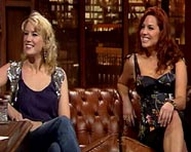 Pamela Flood and Caroline Morahan
From the glamorous catwalks to the trendiest look in the streets the First Ladies of Irish fashion are always in the know when it comes to what's chic and what's not.
Straight Off the Rails, former model Pamela Flood and former teen actress Caroline Morahan shared their fashion and beauty secrets with Ryan and his audience last Saturday.
While Pamela confessed that the last time she exercised was over four months ago, she said she pays close attention to what she puts on her plate.
Caroline slated the unrealistically thin image praised by glossy magazines and in a stunning outfit she proved that curvy, is sexy.
Cleary fashion aficionados on all fronts, both girls admitted however that when it comes to men, fashion doesn't matter.
Off the Rails goes out on RTÉ One every Wednesday at 8.30PM
Pauline McLynn and Keith Duffy
One successfully served tea, the other pints and now two of Ireland's best and biggest exports have returned home.
Pauline McLynn and Keith Duffy, the stars of Dandelions, a new Irish play, which in a way, could be described as a distant Irish cousin of the hit TV drama Desperate Housewives, paid Tubridy Tonight a visit last Saturday.

Pauline told Ryan how making tea for Father Ted and his entourage brought her incredible fame and as a result is sometimes asked for autographs in the most unlikely places.
Keith Duffy, who confessed to blushing anytime a Boyzone number was played during Corrie filming breaks, told Ryan how excited he is about his new job as a stage actor and how different it is from being in a boy band where the microphone was only ever switched on 'from time to time'.

World premiere of Dandelions to play at the Olympia Theatre from 31st October
Robin and Ali Campbell
Started up in the punk era where bands could carry off any name under the sun, the Campbell brothers very nearly called themselves 'Jeff cancer and the nicoties' when a friend came up with UB40 after the 'Unemployment Benefit Four-Oh' form.
In an interview with Ryan, the brothers recalled their childhood spent in a multi-cultural and musical environment where their father ran one Europe's biggest folk club. Paul Simon, The Dubliners and Billy Connolly were amongst the regular performers.

Ali explained how it all started 'with a punch in the face with a pint mug' when out in the town celebrating his 17th birthday. A couple of years after filing a claim for criminal injuries, he received enough money to buy instruments and start a band.
The result was a string of Number One hits, including 'I Got You Babe', 'Kingston Town' and 'I Can't Help Falling In Love With You'.
Although, success brought its share of unhappiness, money loss, drink and drug abuse that nearly destroyed the band, UB40 is back in top form and will be touring Ireland in November.
UB40's Jubilee tour will play Belfast, Dublin and Cork on the 23rd 25th and 26th of November.

"Blood and Fire" an autobiography by Ali and Robin Campbell is out now