Saturday, 8 October 2005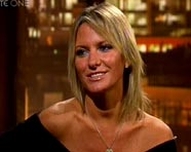 Alex Best
Best known as the woman who married British soccer's biggest legend, Alexandra Macadam Pursey, aka Alex Best paid a flying visit to Tubridy Tonight last Saturday.

Alex recalled how she met the footballer in a trendy London bar over ten years ago when she was only 22. It was practically love at first sight, and when she offered a piece of paper to George to take down her phone number, he said he didn't need it as he'd remember it.

She admitted it wasn't easy living with an alcoholic, and how, sadly, in the back of her mind, she always expects the worse to happen to the football legend.

Now divorced, she dedicates most of her time and energy to cooking, one of her greatest passions. Alex's current ambition is to make a success of her budding catering business.

'Always Alex My Story' was published in hardback in May 2005
Enda Kenny
After an extremely busy political week, the leader of Fine Gael, Enda Kenny popped over to the Tubridy Tonight studio to chat about football, a rat killing mission he took on as a young school principal, flirting in the Dáil and how rain is 'good for the complexion'...

Reared in a political household in county Mayo, Enda Kenny very quickly moved from teaching to politics when his father died of cancer. Now celebrating 30 years as a TD, he's not shy about his ambition to become the next Taoiseach.

The leader of the opposition concluded the interview by performing one of his favourite party pieces - quoting JFK's inaugural speech in his 'best Boston accent'.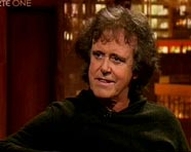 Donovan
Once described as 'the British Bob Dylan', Donovan told Ryan how he was a 'wee boy, only 18' when in 1965 he had his first number One hit.

The working class boy from Glasgow explained how he was only 16 when he left home to 'live the life of the rambler'.

Inspired by the American folk singer Woody Guthrie and utopian at heart Donovan told Ryan how he wanted his music to 'kill ignorance, greed and hypocrisy'.

Introduced to some of 'the most exciting musicians on the planet' by Bob Dylan, Donovan went to India with the Beatles to escape fame and practise mediation.

Accompanied by the Camembert Quartet, Donovan performed of one of his most infectious tunes 'Mellow Yellow.

'The Hurdy Gurdy Man', Donovan's autobiography is now available in shops.