Saturday, 1 October 2005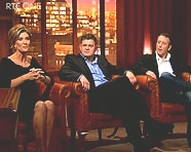 You're a Star
As one of Ireland's top rating TV shows, 'You're a Star' returns to RTÉ with a new mix of judges.

Former Eurovision winner Linda Martin, Sunday Independent journalist Brendan O'Connor and A&R director Thomas Black have been enlisted to make the competition 'edgier' and the three judges paid Tubridy Tonight a visit last Saturday night.

The interview became heated making it obvious that 'harmonious' is not exactly the best word to describe the trio.

The new series of 'You're a Star', presented by Sile Seoige and Derek Mooney begins on RTÉ One on Sunday 20th November at 6.30pm.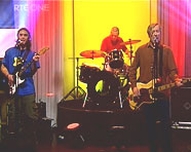 The Frank and Walters
After a few of years away from the limelight, the 1990's indie pop sensation, The Frank and Walters make a welcome return to the stage and popped into the Tubridy Tonight studio last Saturday night to give an exclusive live performance of their new single 'You ask me'.

The track is taken from the Cork band's forthcoming album 'Souvenirs' and you can catch them live across Ireland in October and November.

Friday October 21st, The Granary, Killarney, Co.Kerry, Saturday October 22nd Whelans, Dublin, Friday October 28th, Eddie Murphys, Thomastown, Co. Kilkenny, Friday November 4th, Dolans, Limerick, Saturday November 5th Roisin Dubh, Galway.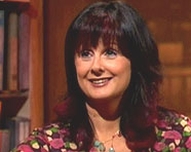 Marian Keyes
Once described as what happens when Sex in the City meets Mrs Doyle from Father Ted, Marian Keyes is one of Ireland's most successful female writers.

The multi-million selling author who first put pen to paper in her thirties describes herself as an 'accidental novelist' and is still incredulous when it comes to her extraordinary success, in fact she often wakes in the middle of the night thinking she imagined it all.

She also told Ryan how the best things in the world are jelly sweets called 'Percy Pigs' and her husband Tony.

'Further under the Duvet' is Marian Keyes' latest book... and it comes from a woman whose working routine, she told Ryan, includes being in bed during 'normal office hours, nine to five...ish' ... writing bestsellers.

'Further under the Duvet, Marian Keyes' latest book' is now available in shops.
Marsha Hunt
Accomplished writer, model, actress, singer, friend and lover to a string of rock stars including Marc Bolan and Mick Jagger, Marsha Hunt is an extraordinary lady.

In many ways the image of the hippy musical 'Hair', her world-famous nude photograph in American Vogue made her an icon of the sixties.

When she was diagnosed with breast cancer just over a year ago, she asked her family and friends 'not to panic' and to 'chill out'.

In an affecting and inspirational interview with Ryan, Marsha spoke of her courageous battle against breast cancer.

At 59 Marsha is now clear of cancer and determined to 'groooove and have a good time'.

'Undefeated' is Marsha Hunt's latest book, charting her battle against cancer is now available in shops.