Monday 26th to Friday 30th of November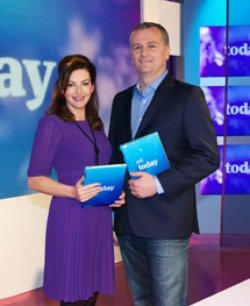 Monday November 26th
Today kicks off with a great mix of strong discussions, food, consumer issues, competitions and TV reviews. Maura and Dáithí will be joined by panellists, Pat Fitzpatrick (Sunday Independent) and Ruth Scott (2fm). Sean O'Sullivan from Dragon's Den drops by to chat to Dáithí and Maura and joins in the discussion on Autism with Kevin Whelan, CEO of Irish Autism Action. Consumer journalist Conor Pope will be there to look after viewers concerns on health insurance, while Chef Paul Flynn will prepare a tasty dish of Butter Bean Chowder. Pat Fitzpatrick will give our weekly TV review and check out what to watch this week.
Tuesday November 27th
Maura Derrane and Dáithí Ó Sé will be joined by panellists Vicky May, features Editor of Irish Examiner and Nicola Byrne, CEO and Founder of 11890. Today brings a lively discussion of the year of the Gathering with Project Director, Jim Miley. Celebrity Chef Catherine Fulvio will cook up an Italian Tomato Sauce, while Nicola Byrne will have her wardrobe decluttered!
Wednesday November 28th
Maura and Dáithí will be joined by panellists Sarah Carey, Irish columnist and broadcaster and Alan Shortt, Comedian Satirist and communications consultant. Colm O'Regan will reveal the book that changed his life. Kevin Dundon will be cooking up his favourite roast lemon chicken, while the Off the Rails expert Brendan Courtney will have some great fashion advice for viewers.
Thursday November 29th
Dáithí and Maura will be joined by 'The Nualas' on the panel. Dr. Chris Luke will answer all viewers' question on what to do when your child is sick. The panel learn the new text lingo on the show while Chef Martin Shanahan gets oriental with monkfish curry and The Movie Show team will feature the best cinema releases.
Friday November 30th
Bláthnaid Ní Chofaigh and Norah Casey kick off Friday's show and discuss Anxiety and Panic Attacks. Love Hate actress Eve Macklin is on the show discussing the popular show. Fiona Looney, playwright, broadcaster & columnist and Domini Kemp, Director of ista join the panel discussions on anxiety and panic attacks. Travel expert, Fionn Davenport flies in from Stateside to get us all in the festive mood with the Christmas markets on offer at home and abroad, while Franc gives great tips on how to keep you keep your kids entertained in the garden.