Monday February 18th - Friday February 22nd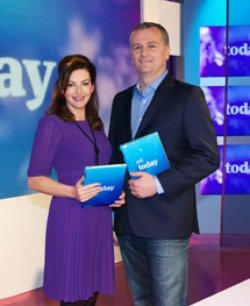 Monday February 18th

Today kicks off with a great mix of strong discussions, food, consumer issues, competitions and TV reviews. Maura and Dáithí will be joined by panellists Pat Fitzpatrick, Sunday Independent Journalist and Author Yvonne Joye. We will be discussing details of 1000 jobs around Ireland on the show today. Consumer journalist, Conor Pope will be in studio talking about how buying unbranded groceries can save you money! Chef Paul Flynn will prepare a tasty Irish stew with lamb shank, while Pat Fitzpatrick will give our weekly TV review and check out what to watch this week.
Tuesday February 19th

Maura Derrane and Dáithí Ó Sé will be joined by panellists Medicinal Chef, Dale Pinnock and comedian, Eleanor Tiernan. Dale Pinnock will be in studio analysing food as medicine and will also be making a healthy Kale Salad. Celebrity Chef, Catherine Fulvio will cook up a delicious Saltimbocca, while we will be checking in with the spring/summer trends for men with our men's wear expert Christophe Capelli.
Wednesday February 20th

Maura and Dáithí will be joined by expert panellists ¬¬¬¬Food and farming journalist, Suzanne Campbell and TODAY show Psychoanalyst, Michael Murphy. Michael Murphy will be answering questions and giving information aimed at reducing the damage when an affair rocks a relationship. Celebrity Richard Corrigan has a rustic recipe for a shin of beef, while our Travel expert, Fionn Davenport will be chatting all about the top places to visit in Ireland.
Thursday February 21st

Dáithí and Maura will be joined by panellist Fair City Actor, Vivienne Connolly. Dr. Chris Luke will be in studio to talk about dependence on prescription drugs and will answer all viewers' questions. Eoghan Doherty will feature the best cinema releases, while Kevin Dundon is cooking live in studio and talking about finding Ireland's next home cook.
Friday February 22nd
Bláthnaid Ní Chofaigh and Norah Casey kick off Friday's show with panellist Yvonne Hogan, Irish Independent and Broadcaster, Brenda Donoghue. Our makeover team are back this week and will be giving a member of our audience a surprise Red Carpet makeover, while Lily Higgins will make a delicious apple cake. Colum McCormack-Crowe is in the studio to keep us all up to date on Celebrity Gossip and the latest news from the sets of the soaps.
This Weeks Experts
Conor Pope is our consumer champion each week. Colum McCormack-Crowe is our Friday Celebrity Gossip Columnist, while Pat Fitzpatrick is our TV reviewer. Dr. Chris Luke is our medical expert while, Psychoanalyst, Michael Murphy is our stress expert. Eoghan Doherty is our cinema expert. Fionn Davenport is our regular travel expert. Paula Mee is our nutritionist expert, while Leonie Cornelius is our gardener. Alan Grant is our expert on DIY.