Monday 3rd to Friday 7th of December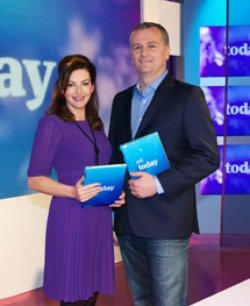 Monday, 3rd December
'TODAY' kicks off with discussions regarding suicide in Ireland and talks with Pieta House which aims to prevent self harm and suicide. Also 'TODAY' brings a new tasty dish, consumer issues, competitions and TV reviews. Maura and Dáithí will be joined by panellists, Helena Maloney, Food Blogger and former Apprentice star Sandra Murphy. Consumer journalist Conor Pope will be there to look after viewers concerns on bank charges, while Chef Paul Flynn will prepare a tasty dish of Potato and Leek Gratin. Pat Fitzpatrick will give our weekly TV review and check out what to watch this week.
Self Harm and Suicide Helpline:
Pieta House: www.pieta.ie
Contact Number: Dublin 01 6010000 and Limerick 061 484444
Call the Samaritans, the 24 hour listening service, to talk to someone now about what's on your mind. Call 1850 60 90 90
Tuesday 4th December
Maura Derrane and Dáithí Ó Sé will be joined by panellists Irish Independent Columnist, Yvonne Joye and Jonathan Healy, Newstalk. Yvonne Joye discusses her book about breast cancer, while Dr. Martin O'Sullivan discusses what a breast check entails and gives us the symptoms to watch out for. 'TODAY' brings a lively discussion of The Gathering, while Celebrity Chef Catherine Fulvio will make delicious brown bread. Also, the big news about the Duke and Duchess of Cambridge brings Paddy Power to our Dublin Studio to talk about placing bets on the name and sex of the new royal.
Thursday 6th December
Dáithí and Maura will be joined by panellists Journalist of The Irish Times, Brian O'Connell. Dr. Chris Luke will answer all viewers' question on First Aid both on and off the field. Chef Martin Shanahan prepares a tasty dish while The Movie Show team will feature the best cinema releases, including 'The Oranges' and 'The Man with the Iron Fists'.
Friday 7th December
Bláthnaid Ní Chofaigh and Norah Casey kick off Friday's show with discussions on stress and resilience. The ladies will be joined by will be joined by panellists Actress, Mary McEvoy and Singer, Brian Kennedy. Musical Star, Michael Ball also joins Norah and Bláthnaid on the show, while Baker, Lily Higgins will be making delicious treats. Franc is at home with his great tips, while Colum McCormack-Crowe will be in the studio to fill us all in on the Celebrity Gossip of the week.