Monday February 25th - Friday March 1st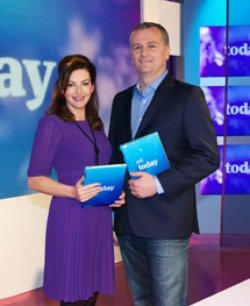 Monday February 25th

Today kicks off with a great mix of strong discussions, food, consumer issues, competitions and TV reviews. Maura and Dáithí will be joined by panellists Pat Fitzpatrick, Sunday Independent Journalist and Food and farming journalist, Suzanne Campbell. We will be discussing the IPSCC is calling for a ban on smacking. Managing Director of Harmonics Financial, Liam Croke will be in studio talking about tracker mortgages and how much yours is worth. Chef Paul Flynn will prepare a delicious apple pie, while Pat Fitzpatrick will give our weekly TV review and check out what to watch this week.
Tuesday February 26th

Maura Derrane and Dáithí Ó Sé will be joined by panellists Weather Presenter, Nuala Carey and Comedian, Alan Shortt. Nutritionist, Paula Mee will be in studio giving us her tips for encouraging healthy eating for kids. We will be discussing spiking drinks with Derek Chambers from reachout.com. Also on the show, we will be showcasing the benefits of the popular shampoo, Main n Tail with a live demonstration. Celebrity Chef, Catherine Fulvio will cook up a delicious John Dory fish, while we will be checking in with our street style final with fashion presenter Sonya Lennon.
Wednesday February 27th

Maura and Dáithí will be joined by expert panellists Psychoanalyst, Michael Murphy and Presenter, Pamela Flood. Michael Murphy will be answering any queries on financial stress. Chef, Kevin Dundon will make a delicious shoulder of lamb, while Travel expert, Fionn Davenport is going to look at skiing holidays this week and will be filling us in on late season breaks that are cheaper.
Thursday February 28th

Dáithí and Maura will be joined by panellist Newstalk Presenter, Jonathan Healy. We will be chatting with Stephen Smith, Breast Cancer Survivor and also discussing the topic further with cancer specialist, Naomi Fitzgibbon. Cinema expert, Eoghan Doherty will feature the best cinema releases, while Martin Shanahan will cooking a delicious Salmon Darn with Lazy Man's Hollandaise.
Friday March 1st

Bláthnaid Ní Chofaigh and Norah Casey kick off Friday's show with panellists Irish columnist, Fiona Looney and Rachel Murphy, Fair City Actor. Our makeover team are back this week and will be giving a member of our audience a surprise makeover, while Trish Deseine will make Lemony mustard Croissants. Colum McCormack-Crowe will be in studio to keep us all up to date on Celebrity Gossip and the latest news from the sets of the soaps.
This Weeks Experts

Conor Pope is our consumer champion each week. Colum McCormack-Crowe is our Friday Celebrity Gossip Columnist, while Pat Fitzpatrick is our TV reviewer. Dr. Chris Luke is our medical expert while, Psychoanalyst, Michael Murphy is our stress expert. Eoghan Doherty is our cinema expert. Fionn Davenport is our regular travel expert. Paula Mee is our nutritionist expert, while Leonie Cornelius is our gardener. Alan Grant is our expert on DIY.