Monday March 25th - Friday March 29th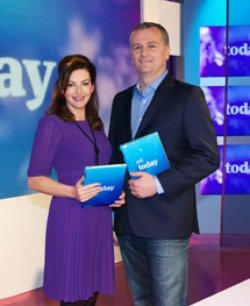 Monday March 25th

Today kicks off with a great mix of strong discussions, food, consumer issues, competitions and TV reviews. Maura and Dáithí will be joined by panellists Pat Fitzpatrick, Sunday Independent Journalist and Celebrity chef, Catherine Fulvio. Consumer journalist, Conor Pope will be in studio talking about dental tourism and will answer all viewers' questions. Catherine Fulvio will be cooking a wonderful Chicken and Noodle Stir Fry live in studio, while Pat Fitzpatrick will give our weekly TV review and check out what to watch this week.
Tuesday March 26th

Maura Derrane and Dáithí Ó Sé will be joined by panellists Brian O'Connell, Irish Times Journalist and Nationwide Presenter and Broadcaster, Mary Kennedy. Chef, Martin Shanahan will make a delicious Salmon Darn with Lazy Man's Hollandaise. Dietitian, Paula Mee will be in studio to give us tips on eating healthy this Easter, while Pharmacist, Claire Hanlon from Doc Morris will be chatting about medicine management on today's show and will answer all viewers' questions.
Wednesday March 27th

Maura and Dáithí will be joined by expert panellists Lotto Presenter, Kamal Ibrahim and Author, Yvonne Joye. Gardening expert, Leonie Cornelius will be giving us her tips on recycling and Chef, Paul Flynn will make a delicious Crab Creme Brulee. Travel expert, Fionn Davenport will be chatting all about the best train journeys in Europe.
Thursday March 28th

Dáithí and Maura will be joined by panellist Ian Dempsey. Dr. Gerry Agnew will be studio to talk about female pelvic disorders and will answer all viewers' questions. Ireland's Home Cook winner, Samara Cherrabi from Enniscorthy will be cooking live on the show, while Cinema expert, Eoghan Doherty will feature the best cinema releases.
Friday March 29th

Bláthnaid Ní Chofaigh and Norah Casey kick off Friday's show with panellist Weather Presenter, Nuala Carey. Our makeover team are back this week and will be giving a member of our audience a surprise makeover. Colum McCormack-Crowe will be in studio to keep us all up to date on Celebrity Gossip and the latest news from the sets of the soaps.
This Weeks Experts

Conor Pope is our consumer champion each week. Colum McCormack-Crowe is our Friday Celebrity Gossip Columnist, while Pat Fitzpatrick is our TV reviewer. Dr. Chris Luke is our medical expert while, Psychoanalyst, Michael Murphy is our stress expert. Eoghan Doherty is our cinema expert. Fionn Davenport is our regular travel expert. Paula Mee is our nutritionist expert, while Leonie Cornelius is our gardener. Alan Grant is our expert on DIY.