Tuesday March 19th - Friday March 22nd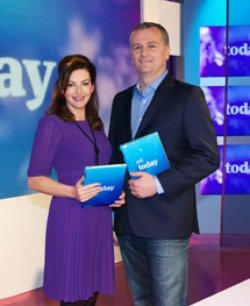 Tuesday March 19th

Maura Derrane and Dáithí Ó Sé will be joined by panellists Solicitor, Gerald Kean and Food and farming Journalist, Suzanne Campbell. We will be discussing stay at home dads and also what cheers you up. Dietitian, Paula Mee will be in studio to give us tips on weight loss management, while Pharmacist, Claire Hanlon from Doc Morris will be chatting about tension headaches and migraines on today's show and will answer all viewers' questions. Franc will be showing us how to throw the perfect children's party on today's show!
Wednesday March 20th

Maura and Dáithí will be joined by expert panellists Psychoanalyst, Michael Murphy and Actor, Mary McEvoy. Michael Murphy will be in studio to talk about dealing with bullying at home and will answer all viewers' questions. DIY expert, Alan Grant will be showing us how to waterproof your home. Trish Deseine will make a delicious Cheese Soufflé and we will be discussing the best sun destinations with Sunway travel.
Thursday March 21st

Dáithí and Maura will be joined by panellist Broadcaster, Alison Comyn. Dr. Chris Luke will be in studio to talk about what to do if heart attacks occur in the home and will answer all viewers' questions. Tune in for the Today team test on fake tan. Ireland's Home Cook winner, Samara Cherrabi from Enniscorthy will show us her skills, while Cinema expert, Eoghan Doherty will feature the best cinema releases.
Friday March 22nd

Bláthnaid Ní Chofaigh and Norah Casey kick off Friday's show with panellist Yvonne Hogan, Irish Independent and Presenter, Lorraine Keane. Our makeover team are back this week and will be giving a member of our audience a surprise makeover. Rachel Allen will make a delicious Hazelnut Meringue, while Colum McCormack-Crowe will be in studio to keep us all up to date on Celebrity Gossip and the latest news from the sets of the soaps.
This Weeks Experts

Conor Pope is our consumer champion each week. Colum McCormack-Crowe is our Friday Celebrity Gossip Columnist, while Pat Fitzpatrick is our TV reviewer. Dr. Chris Luke is our medical expert while, Psychoanalyst, Michael Murphy is our stress expert. Eoghan Doherty is our cinema expert. Fionn Davenport is our regular travel expert. Paula Mee is our nutritionist expert, while Leonie Cornelius is our gardener. Alan Grant is our expert on DIY.