Monday February 11th - Friday February 15th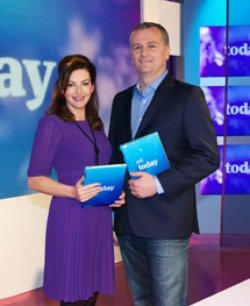 Monday February 11th

Today kicks off with a great mix of strong discussions, food, consumer issues, competitions and TV reviews. Maura and Dáithí will be joined by panellists Pat Fitzpatrick, Sunday Independent Journalist and Jane Lyons, Reality Bites Presenter. We will be bringing you the Red Carpet experience from the IFTAS. Consumer journalist, Conor Pope will be in studio to fill us in on the good bargain basement presents for your partner this Valentines, while also informing us on the items worth spending the extra little bit on. Chef, Paul Flynn will prepare a tasty Bacon Collar, while Pat Fitzpatrick will give our weekly TV review and check out what to watch this week.
Tuesday February 12th
Maura and Dáithí will be joined by panellists Mary Kennedy, Presenter and Brian O'Connell, Irish Times Journalist. Paul Flynn will be live in studio cooking up some tasty pancakes, while Nutrition expert, Paula Mee will be giving us her tips on food that is good for the heart. Celebrity Chef, Catherine Fulvio will cook up a delicious lasagne, while we will be checking out the fashion from the BAFTAS and IFTAS awards.
Wednesday February 13th

Maura and Dáithí will be joined by expert panellists Musician, Tommy Fleming and Maia Dunphy, Broadcaster. Today, Maura and Dáithí welcome their newest expert to the TODAY team. Psychoanalyst and Newscaster, Michael Murphy will be on the show every week discussing viewer's questions on relationship stress. Celebrity chef, Kevin Dundon will be cooking up a delicious Corrigan rib of beef, while our Travel expert, Fionn Davenport will be chatting all about travel for senior travellers. Gardener, Leonie Cornelius will be giving us tips for a balcony herb garden for both adults and children.
Thursday February 14th

Dáithí and Maura will be joined by panellist Newstalk Presenter, Jonathan Healy. Dr. Chris Luke will be in studio to talk about hyperthermia and will answer all viewers' questions. Eoghan Doherty will feature the best cinema releases, while Trish Deseine will be making delicious chocolate Truffles.
Friday February 15th

Bláthnaid Ní Chofaigh and Norah Casey kick off Friday's show with panellist Nicola Byrne, founder & CEO 11890. Our makeover team are back this week and will be giving a member of our audience a surprise makeover, while Lily Higgins will make a tasty dish. Colum McCormack-Crowe is in the studio to keep us all up to date on Celebrity Gossip and the latest news from the sets of the soaps.
This Weeks Experts

Conor Pope is our consumer champion each week. Colum McCormack-Crowe is our Friday Celebrity Gossip Columnist, while Pat Fitzpatrick is our TV reviewer. Dr. Chris Luke is our medical expert, while Fionn Davenport is our regular travel expert. Paula Mee is our nutritionist expert, while Psychoanalyst, Michael Murphy is our stress expert. Leonie Cornelius is our gardener, while Alan Grant is our expert on DIY. Eoghan Doherty is our cinema expert.