Monday 5th to Friday 9th of November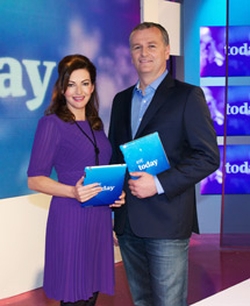 Monday November 5th
Today kicks off its first ever show in RTÉ Cork with a great mix of lively debate, food, consumer issues, competitions and the very latest in make up trends. Maura Derrane and Dáithí Ó Sé present RTÉ's new daytime show from Monday to Thursday and they'll be joined by Cork athlete Derval O'Rourke and RTÉ's parenting expert David Coleman who will be chatting about his new show Bullyproof. Consumer journalist Conor Pope will be there to look after viewers' concerns while chef Paul Flynn will prepare a tasty chicken dish, make up expert Ken Boylan will transform a willing viewer and contributor Pat Fitzpatrick will check out what to watch this week.

Tuesday November 6th
Maura Derrane and Dáithí Ó Sé continue Today's first week on air and they'll be joined by former Glenroe actor Mary McEvoy and Celebrity Bainisteoir finalist Rozanna Purcell. Today will highlight how you can get involved in The Gathering next year while Catherine Fulvio will cook up a healthy fish and chips dish. Fashion stylist Annmarie O'Connor declutters Roz Purcell's wardrobe and Dr. Cliodhna Foley Nolan will offer the best dietary advice. Finally Today will feature an exclusive interview with Argo director Ben Affleck.

Wednesday November 7th
Maura and Dáithí will be joined by bestselling author Cathy Kelly who will reveal the book that changed her life. Also in the Today studio will be actress Hilda Fay and RTÉ presenter Evelyn O'Rourke. Want to have hot water for the rest of your life? Then tune in to Expert Hardware's Alan Grant to find out how. Tina Leonard is on hand to give the best money management advice and Kevin Dundon will be cooking up fiery fajitas with wedges while the Off the Rails team Sonya Lennon and Brendan Courtney have some great fashion advice for viewers.

Thursday November 8th
Dáithí and Maura will be joined by Franc aka Peter Kelly who will show viewers how to make a beautiful winter picnic. Dr. Chris Luke will answer viewers' medical questions and contributor Brian O'Connell will reveal what's happening all around Ireland. Martin Shanahan cooks up some tasty mussels and The Movie Show team will feature the best cinema releases.

Friday November 9th
Bláthnaid Ní Chofaigh and Norah Casey kick off Today's first Friday show and they've decided to open their girls' club to broadcasting legend Mike Murphy. Fiona Looney joins the illustrious panel for a proper start to the weekend. They'll be joined by travel expert Fionn Davenport and Well Being coaches Brenda Roche and Julie McCall who will reveal the secrets of happiness while chef Lily Higgins bakes a perfect Victoria sponge.

This Weeks Experts
Cliodhna Foley Nolan is our Nutritionist she appears as a regular expert guest on Wednesdays Colum McCormack-Crowe is our Friday Celebrity Gossip Columnist Josepha Madigan is our family law expert Tina Leonard is our financial expert on a Wednesday Brian'Connell is out What's On man each Thursday.
Wellbeing and happiness

What is Positive Psychology?
Positive psychology is the scientific study of wellbeing and happiness. Martin Seligman, one of the founders of positive psychology suggests 5 areas of wellbeing which he calls the PERMA model. We are going to look at these over the next few weeks.
This includes:

Positive emotions- being aware of positive emotion and how can you experience more of them.
Engagement- focuses on knowing you strengths and talents and using them more.
Relationships- relating to others well.
Meaning-Finding meaning in your life-knowing what matters to you and having goals or projects around these things.
Accomplishment- getting a sense of achievement.

Positive psychology covers these 5 areas and how to improve on each one.

Wellbeing is not just the absence of misery. Positive Psychology looks at how we can make live more fulfilling. It asks the question what's right with you, what's going well for you? It's about attempting to build on the best things in life.

Is Happiness genetic?
50% of our overall sense of well-being and happiness is genetic. Only 10% is determined by our environment and our general circumstances, which means that the remaining 40% is within our control. One problem is that we are not very good at predicting what will make us happy, so we often look for happiness in the wrong places.

Positive emotions
Psychologist Barbara Frederickson discovered that experiencing positive to negative emotions in a 3-to-1 ratio leads people to flourish in life. This means that we need 3 positive emotions to lift us for every negative emotion which drags us down. As human beings we experience a wide range of emotions every day. From the positive ones such as joy and content to the negative ones such as anger and fear. Maintaining a high ratio of positive to negative emotions is one of the most important practices to improve your life, productivity & relationships.

Of course some negativity is absolutely normal and indeed helpful but a lot of negativity is pointless and needs to be kept in check, like jumping to conclusions, making assumptions and ruminating. We shouldn't pressure ourselves to be positive rather look for opportunities to be more open, less rigid, more appreciative and focus more on what's working.

We could all probably name 3 things that give us more joy or more fun like, dancing, walking hobbies, meeting friends but we so rarely give ourselves permission to do them, we often think of them as trivial. That's a mistake when we invest in things that gives us positive emotion we are investing in our future.
There are a few things that can help to increase positive emotions which have been researched and work

3 good things or what workings well exercise. Wellbeing is about focusing on what working well in your life and seeing the good in people and situations. The 3 good things exercise is a simple yet effective exercise which helps you focus on the positive. The exercise entails writing down, at the end of the day perhaps before you go to bed, 3 things that went well with your day and why they went well. This surprisingly simple exercise has the effect of focusing our attention on what's going right in our world instead of focusing on what's wrong.

Random acts of kindness is another simple exercise. Doing something for another person is probably the single biggest boost to our wellbeing. Research shows that it's even better to do a few together; seemingly 5 in one day will give you a real surge in your wellbeing.

Exercise- as well as being necessary for physical health is a fantastic mood booster. The chemicals released into our body when we exercise are called endorphins and have the effect of boosting our mood and improving our motivation. The World Health Organisation recommend 150 minutes of moderate activity weekly or 30 minutes 5 days a week and 2 sessions of muscle strengthening weekly.

Savouring simple pleasures (without guilt) like a leisurely cup of coffee, the walk outside, nature, tasting the food we are eating. This is similar to the impact of meditation which gives the brain a rest from busyness and is linked to the effects of meditation which has been shown to positively impact brain function.

Social relationships- studies show that happy people devote lots of time to their family and friends nurturing and enjoying those relationships. Often when people feel low, they withdraw from others and that's really understandable but very unhelpful. Make a list of the key people in your life and plan how to spend time with them.