Monday March 4th - Friday March 8th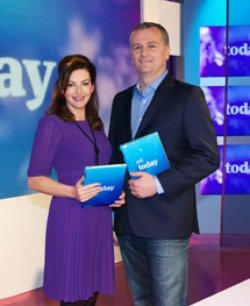 Monday March 4th

Today kicks off with a great mix of strong discussions, food, consumer issues, competitions and TV reviews. Maura and Dáithí will be joined by panellists Pat Fitzpatrick, Sunday Independent Journalist and Broadcaster, Lorraine keane. We will be chatting all about the new Dragon's Den with the new Dragon, Ramona Nicholas. We will also be chatting to Generation Sex Psychologist, Deborah Mulvany regarding young people struggling to form healthy relationships due to inadequate sex education. Consumer journalist, Conor Pope will be showing us websites that can save you money. Trish Deseine will prepare a delicious onion soup, while Pat Fitzpatrick will give our weekly TV review and check out what to watch this week.
Tuesday March 5th

Maura Derrane and Dáithí Ó Sé will be joined by panellists Fashion presenter, Brendan Courtney and Broadcaster, Lillian Smith. We will be discussing the best jobs in the worlds, while Nutritionist, Paula Mee will be in studio giving us her tips on food for women and the best foods to eat for your age. Pharmacist, Doc Morris will be discussing what your pharmacist can do for you and will also be discussing Colic in babies. Brendan Courtney will be doing his fashion staples and will showcase his classics from his new fashion line 'Lennon Courtney', while Celebrity Chef, Catherine Fulvio will cook up a delicious Macaroni Cheese.
Wednesday March 6th

Maura and Dáithí will be joined by expert panellists Psychoanalyst, Michael Murphy and Founder & CEO of 11890, Nicola Byrne. Michael Murphy will be answering any queries on Alcoholism in relationships, while Alan Grant from Expert Hardware will be showing us how to paint any room in your house for under €50. Chef, Kevin Dundon will make a delicious steamed Bacon and Cabbage, while Travel expert, Fionn Davenport is going to look at reasons to Travel in March.
Thursday March 7th

Dáithí and Maura will be joined by panellist Tom Sykes, Journalist with the Daily Beast and Broadcaster, Ella McSweeney. We will be chatting with Dr. Chris Luke will be in studio to talk about head injuries and will answer all viewers' questions. We will be revealing Ireland's Home Cook winner, while Cinema expert, Eoghan Doherty will feature the best cinema releases. Celebrity chef, Martin Shanahan will be cooking a delicious Asian Monk.
Friday March 8th
Bláthnaid Ní Chofaigh and Norah Casey kick off Friday's show with panellist Broadcaster, Brenda Donohue. Our makeover team are back this week and will be giving a member of our audience a surprise makeover, while Trish Deseine will make a delicious Friday treat. Colum McCormack-Crowe will be in studio to keep us all up to date on Celebrity Gossip and the latest news from the sets of the soaps.
This Weeks Experts

Conor Pope is our consumer champion each week. Colum McCormack-Crowe is our Friday Celebrity Gossip Columnist, while Pat Fitzpatrick is our TV reviewer. Dr. Chris Luke is our medical expert while, Psychoanalyst, Michael Murphy is our stress expert. Eoghan Doherty is our cinema expert. Fionn Davenport is our regular travel expert. Paula Mee is our nutritionist expert, while Leonie Cornelius is our gardener. Alan Grant is our expert on DIY.