Monday February 4th - Friday February 8th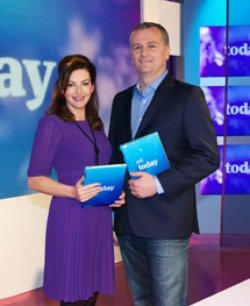 Monday February 4th
Today kicks off with a great mix of strong discussions, food, consumer issues, competitions and TV reviews. Maura and Dáithí will be joined by panellists Oscar winning filmmaker, Lord David Puttnam and Author, Yvonne Joye. Consumer journalist, Conor Pope will in studio to fill us all in on scams that are designed to fleece you if you're not vigilant, while Chef Paul Flynn will prepare a tasty dish of a delicious seafood stew. Comedian, Alan Shortt is in studio to give our weekly TV review and check out what to watch this week.
Tuesday February 5th

Maura Derrane and Dáithí Ó Sé will be joined by panellists Neil Prendeville, Broadcaster and Loraine Keane, Broadcaster. Today brings discussions on cyber bullying and internet safety, while Nutrition expert Paula Mee will be giving her top 5 food items that help to boost your mood. Celebrity Chef Catherine Fulvio will cook up a delicious beef and red wine stew, while we will be checking out the latest fashion with fashion presenter Brendan Courtney.
Wednesday February 6th

Maura and Dáithí will be joined by expert panellist Tom Sykes, Journalist with the Daily Beast and Pamela Flood, Presenter. Celebrity chef, Kevin Dundon will be cooking up a delicious Kerry lamb, while our Travel expert, Fionn Davenport will be back in studio to give us great travel advice for your ideal honeymoon. Expert Hardware, Alan Grant will be in studio to give us all advice on security in your home.
Thursday February 7th

Dáithí and Maura will be joined by panellists Peter Kelly/Franc, wedding planner and Gráinne McMahon, Galway Now Editor. Dr. Chris Luke will answer all viewers' health questions on whooping cough. Today brings the real legacy of this recession, while Chef Martin Shanahan makes a scallop and black pudding starter. Eoghan Doherty will be in studio to feature the best cinema releases.
Friday February 8th

Bláthnaid Ní Chofaigh and Norah Casey kick off Friday's show with TV Chef, Louise Lennox. Our makeover team are back this week and will be giving a member of our audience a surprise makeover, while Trish Deseine will make a tasty Normandy Chicken Casserole. We will be discussing what's on around the country this weekend, while Colum McCormack-Crowe is in the studio to keep us all up to date on Celebrity Gossip and the latest news from the sets of the soaps.
This Week's Experts

Conor Pope is our consumer champion each week. Colum McCormack-Crowe is our Friday Celebrity Gossip Columnist, while Fionn Davenport is our regular travel expert. Paula Mee is our nutritionist, while Dr. Chris Luke is our medical expert.