Tuesday April 2nd- Friday April 5th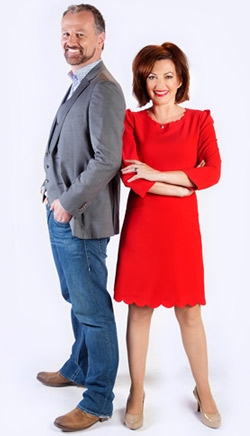 Tuesday April 2nd
Maura Derrane and Dáithí Ó Sé will be joined by panellists Deirdre O'Shaughnessy, Cork Independent Editor and Sport Broadcaster and commentator, Marty Morrissey. Food and Health Consultant, Lucy Hyland will be chatting about introducing more naturally sweet foods in your diet after the Easter weekend. Maura will be chatting to the 'Irish Guide Dogs for the Blind' about the Assistance Dog Programme to help families of children with autism. Irish singer-songwriter, Keith Duffy will be in our Dublin studio to discuss this topic further.
Wednesday April 3rd
Maura and Dáithí will be joined by expert panellists Writer, Fiona Looney and Psychoanalyst, Michael Murphy. Trish Deseine will make a delicious Salad Nicoise. Our DIY expert will be chatting about useful items to help you out around the house for under €10, while Travel expert, Fionn Davenport will be chatting about a gourmet trek around the country.
Thursday April 4th
Dáithí and Maura will be joined by panellists Celebrity Chef, Kevin Dundon and Broadcaster Ruth Scott. Dr. Chris Luke will be studio to talk about panic attacks and will answer all viewers' questions. We will bring you an exclusive on the red carpet of Tom Cruise. Ireland's Home Cook winner, Samara Cherrabi from Enniscorthy will be cooking live on the show, while Cinema expert, Eoghan Doherty will feature the best cinema releases.
Friday March 5th
Bláthnaid Ní Chofaigh and Norah Casey kick off Friday's show with panellist Novelist and Journalist Amanda Brunker and Model, Vouge Williams McFadden. Our makeover team are back this week and will be giving a member of our audience a surprise makeover. Colum McCormack-Crowe will be in studio to keep us all up to date on Celebrity Gossip and the latest news from the sets of the soaps.
This Weeks Experts
Conor Pope is our consumer champion each week. Colum McCormack-Crowe is our Friday Celebrity Gossip Columnist, while Pat Fitzpatrick is our TV reviewer. Dr. Chris Luke is our medical expert while, Psychoanalyst, Michael Murphy is our stress expert. Eoghan Doherty is our cinema expert. Fionn Davenport is our regular travel expert. Paula Mee is our nutritionist expert, while Leonie Cornelius is our gardener. Alan Grant is our expert on DIY.