About the Show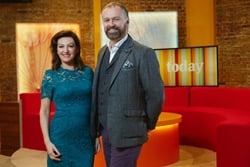 Ireland's most watched Daytime show is back -bigger and better than ever, and now on your screens for even longer, getting Ireland talking and giving away some of the best prizes on the box.
Crammed full of the latest lifestyle and showbiz news , our team of experts will be giving YOU at home, practical tips every day. Stuck for what to cook for dinner? Don't worry. Ireland's best chefs from Rachel Allen to Paul Flynn will be on hand, cooking affordable family food every day. Stuck in a style rut? Have no fear, our Glam Squad of celebrity makeup artists, hair stylists and fashion experts will be here to advise you on any style dilemma you might be in. Do you have a health problem that refuses to go away? Or maybe you've read a recent headline that's got you worried? Our Doctor On Call will be in the studio giving FREE health advice. Plus our personal finance and consumer team will be keeping you up to date with the latest supermarket deals, and generally just helping you make your money go further. Not to mention, practical parenting tips in our Mammy Knows Best segment, all the latest from the Soaps, and the best celebrity and real life stories around!
For all the information on the Today show go to our Facebook page www.facebook.com/rtetoday

To contact the show please email the team at today@rte.ie

Today is an RTÉ Cork production.