Thursday 30th May, 11.30pm, RTE 1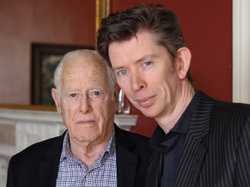 Dublin band Little Green Cars play the track, The Consequences of Not Sleeping, from their acclaimed debut album, Absolute Zero.
US author James Salter (pictured) tells John Kelly about his novel, All That Is, the story of Philip Bowman, young naval officer turned book editor in the decades after WWII. An elegant portrait of a particular era of New York publishing, Bowman's success in his professional life proves not so easily replicated in the personal.
Film-maker Neasa Hardiman and novelist Peter Murphy review Neil Jordan's new film, Byzantium, in which Gemma Arterton and Saoirse Ronan play a vampiric 200-year-old mother and daughter. Also stars Sam Riley and Tom Hollander.
Kevin Gildea interviews Gillian Fitzpatrick at the Goethe-Institut, Dublin about her exhibition Die Welt von Morgen (Tomorrow's World) in which the artist has transformed the Return Gallery at the Institut into an approximate, imagined re-creation of Kraftwerk's famous Kling Klang studios in Dusseldorf.
Theatre company Sunday's Child give us a preview of Kiss Me And You Will See How Important I Am, their Edinburgh Fringe hit, written by Eva O'Connor, which plays at Project Arts Centre from 4th to 8th June.

Image credit for film review: Shower by Dorje de Burgh courtesy of The Copper House Gallery www.thecopperhousegallery.com