Welcome to the Dollhouse ...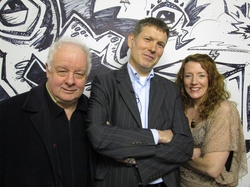 Mick Heaney meets the Sheridans (right) and hears how Kirsten finally got to wreck her father Jim's house in the making of her new film, Dollhouse, due out on 7th December!
Colombian author Juan Gabriel Vasquez discusses drugs, zoos and Pablo Escobar with John Kelly on the occasion of new novel, The Sound of Things Falling.
As Tender Napalm opens this week in Project Arts Centre, Dublin, director Marc Atkinson explains Philip Ridley's apocalyptic love story, starring Aaron Heffernan and Erica Murray as Man and Woman.
Tonight, we premiere the final three-minute films from Into the Light, celebrating 60 years of the Arts Council. Reframe by Tadhg O'Sullivan follows artist Karl Burke as he prepares for an exhibition at the Hugh Lane Gallery while A Prevailing Wind by Ian Cudmore, Alan Kavanagh and Donal Dineen explores those six decades in the arts.

Julie Feeney performs a track from her new album Clocks in studio.
The Works, Thursday 29th Nov, 10.45pm, RTE 1