The Works Presents... Kevin Barry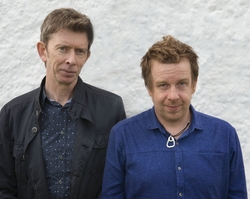 11.15pm, Thursday 29th Oct, RTÉ One
In The Works Presents... John Kelly meets key figures from film and TV, books, music, theatre and the visual arts. This week he talks to Kevin Barry.
Kevin has published three award-winning books since 2007, two short story collections, There Are Little Kingdoms, and Dark Lies the Island, and one novel, The City of Bohane. His exuberant fiction - full of twisted, shape-shifting trickster types - ranges across a spectrum that runs from dark comedy to outright horror.
At home in Sligo, he talks to John Kelly about his new novel Beatlebone - his first attempt at historical fiction, he says - in which a crisis-ridden John Lennon tries to get to his island off Clew Bay, Mayo in 1978.
Beatlebone by Kevin Barry is available now, published by Canongate.
Coming up... actor Gabriel Byrne - 5th Nov; musician Elvis Costello - 12th Nov; novelist Jennifer Johnston - 19th Nov; performance artist Marina Abramovic - 26th Nov.