Thursday 28th November, 10.45pm, RTÉ One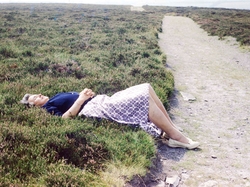 Colin Barrett tells John Kelly about Young Skins, his first collection of short stories, published by Stinging Fly Press.

Nadine O'Regan and Harry Browne review Parkland, the re-telling of the JFK assassination, 50 years ago this month, and the frantic 24 hours that followed.
John Kelly meets Irish-born photographer Tom Wood, whose exhibition, Men and Women, has opened at the Gallery of Photography, Dublin. www.galleryofphotography.ie Men and Women also tours to Belfast Exposed in January 2014.
Now showing at IMMA, Pictiúr is an exhibition of art by 21 of Ireland's leading children's book illustrators, from Oliver Jeffers to Niamh Sharkey, who is also co-curator as Laureate na nÓg. www.imma.ie

Canadian singer/songwriter Amelia Curran plays the track Blackbird on Fire from her album Spectators. www.ameliacurran.com

Image credit: Sehnsucht by Maisie McNeice, courtesy of The Copper House Gallery
Contact us via Twitter @RTETheWorks - #RTETheWorks - and email: theworks@rte.ie
Have you seen us on RTE's YouTube channel?
We've posted extended interviews:
Eddie Izzard http://youtu.be/Oxi9slwcLXk
Tommy Tiernan http://youtu.be/SN1M-zwZXYA

And music performances:
Little Green Cars http://youtu.be/ofkn8T9ZsJA

John Smith http://youtu.be/J9yHp3RSk4Y

And So I Saw You From Afar http://youtu.be/7uQGyBHQ2Ho

More to follow... Subscribe and we'll know you've been!