8.30pm, Friday, 28th February, RTÉ One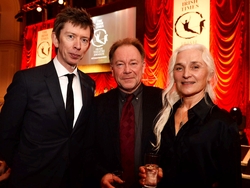 John Kelly, Owen Roe and Olwen Fouéré
Theatre
The Works drops in to this year's Irish Times Theatre Awards at the Royal Hospital Kilmainham, Dublin and chats to actors Tom Vaughan-Lawlor (aka Nidge), Owen Roe and Simon Callow.
Actor/writer Olwen Fouéré - recipient of the Special Tribute Award - talks about her work on stage and screen, a career that spans Pat McCabe, Sean Penn and James Joyce (her one-woman-show riverrun, inspired by Finnegans Wake, plays at the National Theatre London in March). www.olwenfouere.com
Exhibition
All kinds of failure is celebrated in Fail Better, at the Science Gallery, Dublin, from Christopher Reeve's first wheelchair to the Walkie Talkie Building in London that accidentally melted nearby cars. Writer Anne Enright and explorer Ranulph Fiennes are two of the 20 people invited to select an object that represents falling short. Kevin Gildea takes a closer look. https://dublin.sciencegallery.com
And we show an extract from Remains, the film by artist Willie Doherty currently showing at the Kerlin Gallery, Dublin. www.kerlin.ie

Film
In Tim's Vermeer, US magicians and myth-debunkers Penn and Teller explore a theory sure to upset a lot of artists and art lovers - that any novice can paint as well as a master like Vermeer. Artist Jesse Jones and journalist Mick Heaney join John Kelly to review.
Music

Impossibly young popsters All The Luck In The World play the track Beaching from their debut album, also called All The Luck In The World, released on 31 January.