Thursday 28th Feb, 10.45pm, RTE 1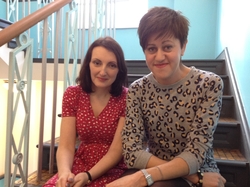 A tale of two memoirs. Tracey Thorn, famous voice of 1980s/1990s English pop duo Everything But The Girl, discusses Bedsit Disco Queen, about her life in music, with Sinéad Gleeson. And actor and writer Michael Harding talks to John Kelly about Staring At Lakes, a frank account of mid-life depression and gender wars over a badly stacked dishwasher.
Exploring the clerical sexual abuse of deaf schoolboys in Milwaukee, Mea Maxima Culpa: Silence in the House of God is the new film by US documentary-maker Alex Gibney. With the film currently on release in selected cinemas here, Mick Heaney met him during a recent visit to Dublin.
On tour this week with his self-titled debut album, New York-based musician Ed Romanoff plays the song Sacred Wreck on The Works. He is at Cleere's Theatre, Kilkenny, 28th Feb and Whelan's, Dublin, 1st March. www.edromanoff.com