Thursday 27th June, 11.10pm, RTE 1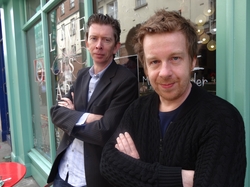 In our last show this season, Kevin Barry - 2013 IMPAC award winner for his novel, City of Bohane - talks to John Kelly about editing the fourth Faber collection of New Irish Short Stories, Town and Country. Contributors including Paul Murray and Molly McCloskey read from their stories.
The Duckworth Lewis Method - aka Neil Hannon and Thomas Walsh - return with that difficult second album, Sticky Wickets, from which they play the current single, It's Just Not Cricket, on The Works tonight.
Journalists Sophie Gorman and Philip Watson review Stories We Tell, a documentary by Canadian director Sarah Polley, best known for the 2006 feature, Away From Her, starring Julie Christie. Here, Polley turns the camera on family and family friends to piece together the intriguing story of her mother Diane, who died from cancer while Sarah was still a child.
Fabulous Beast Dance Theatre perform the Irish premiere of their Stravinsky double bill, The Rite of Spring and Petrushka, at the Galway Arts Festival in July. Artistic director Michael Keegan-Dolan talks to the Works.
Kevin Gildea explores the creative connections between art and cinema in the exhibition, Cloud Illusions I Recall, at the New Galleries, IMMA, featuring an impressive line-up of artists including James Coleman, Peter Doig and Cindy Sherman.
Image credit, film review: Sherry Baby by Amy Hanrahan courtesy of The Copper House Gallery www.thecopperhousegallery.com
We're back on air on 12th Sept... have a great summer!