Thursday 26th September, 11.10pm, RTE 1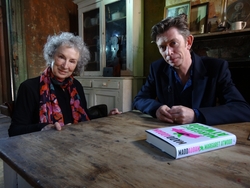 Margaret Atwood talks to John Kelly about her novel, MaddAddam, the final instalment in a dystopian trilogy that began with Oryx and Crake ten years ago.
In recent times, we've had Woody Allen in London, Paris, Barcelona, Rome, and now here he is in San Francisco, in a homecoming peppered with Manhattan flashbacks. Blue Jasmine is his riches-to-rags tale about Cate Blanchett's Jasmine, a New York socialite seeking refuge on the West coast with her sister (Sally Hawkins) now that husband Hal (Alec Baldwin) has turned out to be the faithless, fraudulent, financial type. Journalist Lauren Murphy and writer/lecturer Harry Browne review.
This year, The Works goes to the Hard Working Class Heroes Festival, in Dublin from 3rd to 5th October. A showcase for more than 100 of Ireland's newest bands, journalist Roe McDermott takes a closer look.
John Kelly meets IMMA curator Sean Kissane to talk about Leonora Carrington, an artist whose life was as exotic as her work, and about The Celtic Surrealist, the first major Irish retrospective of her beautiful, eerie paintings.
On tour in Cork, Dublin, Limerick and Galway, English singer songwriter John Smith plays a track from his new album, Great Lakes.
Image credit: Sehnsucht by Maisie McNeice is in the background of the Woody Allen film review, courtesy of The Copper House Gallery.