Music by Sigur Rós meets the art of Clare Langan ...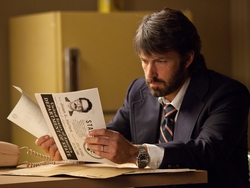 in the new video for Vardeldur. Langan is one of 12 film-makers chosen by the band to illustrate tracks from their new album Valtari.
Patrick Freyne and Sophie Gorman review two films: Argo, directed by and featuring Ben Affleck (pictured right) and Rust and Bone, starring Marion Cotillard.
John Kelly talks to New York writer Pete Hamill about The Christmas Kid and Other Brooklyn Stories, and to artist Bea McMahon about Root, her exhibition at the Temple Bar Gallery + Studios.
There's music in studio from The Unusual History of Ether - on tour here 31st Oct, The Workman's Club, Dublin, 1st Nov, Riverbank Arts Centre, Newbridge, 2nd Nov, Dolan's Pub, Limerick, and 3rd Nov, Mermaid Arts Centre, Bray - and we go backstage with the Crash Ensemble as they unveil new work as artists-in-residence at Project Arts Centre, Dublin on 2nd Nov.
The Works, Thursday 1st Nov, 10.45pm RTE 1