Thursday 25th April, 11.25pm, RTE 1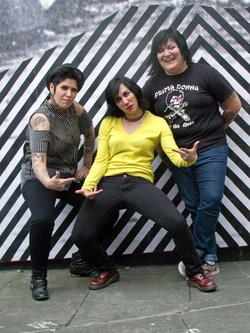 Patrick O'Reilly invites the Works into his studio, a former church near Drumcondra in Dublin, to talk about his art as his new show, The Consideration of the Planets, opens at the Oliver Sears Gallery.
Writer Declan Hughes and director Matt Torney discuss Digging For Fire, a new production by Rough Magic of Declan's 1991 hit play, about a group of college friends meeting up after seven years.
John Kelly meets artist Tobias Rehberger, one of three curators of I knOw yoU, an exhibition by a new generation of European artists, in IMMA's off-site space at NCH, Earlsfort Terrace, exploring the theme of what it means to be European.
Author Elizabeth Day tells Sinéad Gleeson about her new novel, Home Fires, the story of three generations of a family impacted by war.
San Antonio rock band Girl in a Coma (pictured) provide this week's music, with the track Smart, from the current album, Exits & All the Rest.