Lincoln leads the field...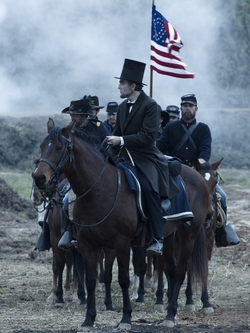 Nadine O'Regan and Patrick Freyne join John Kelly to review Lincoln. Daniel Day-Lewis stars and Steven Spielberg directs.
Blackshaw at 80 has just opened at the RHA, Dublin, featuring more than 50 of the signature works that span artist Basil Blackshaw's career. John Kelly takes a look.
WillFredd Theatre take the Works backstage as they revive their award-winning show, Follow, at Project Arts Centre, Dublin.
The shortlists for this year's prestigious Costa Book Awards, announced in November 2012, held something of a surprise with the inclusion of two graphic novels - Dotter of her Father's Eyes by Mary and Bryan Talbot in the biography section (which it went on to win) and Days of the Bagnold Summer by Joff Winterhart in the novel category. All five category winners compete for the overall Costa Book of the Year on the 29th January. Comic novel fan Peter Murphy explores a genre on the move from the margins into the mainstream.
And Irish pop duo I'm Your Vinyl provide the music!
The Works, Thursday 24th Jan, 11.15pm, RTE 1