The Works goes to New York ...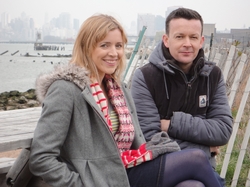 RTÉ One, 22 March 2012 at 11.10pm
As Once the musical opens on Broadway, the Works goes to New York where Nadine O'Regan meets Enda Walsh (right), the writer responsible for adapting that Oscar-winning film for the stage.
John Kelly and Peter Murphy shoot the breeze about the new Bruce Springsteen album, Wrecking Ball, and The Callino Quartet and Sarah Beatty perform in studio.
Cork City Ballet celebrates 100 years as a company and IMMA highlights the art and history of US photography since the 1850s in the exhibition, Conversations: Photography from the Bank of America Collection.