Billy Bragg talks Woody Guthrie on the last Works before summer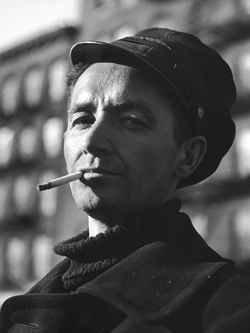 Woody Guthrie
Courtesy Getty Images
As the centenary of Woody Guthrie's birth draws near - 14th July, to be exact - musician, activist and lifelong fan Billy Bragg discusses his hero with John Kelly, in particular the 1998 album Mermaid Avenue, the result of a request by Nora Guthrie to write music to a series of previously unheard lyrics by her father.
The landscape of north Mayo is the subject of Big Sky, a new exhibition by photographer Amelia Stein at the Oliver Sears Gallery from 21st June.
Check out an excerpt from A man and a woman make love, a new multi-screen video installation by artist Gerard Byrne currently showing at the Documenta exhibition in Kassel, Germany.
With a prize of e100,000, nominated by 162 libraries around the world, the International IMPAC Dublin Literary Award is the largest, most international prize for writers. Sinéad Gleeson gives us a tour of the final ten books in the running this year and we hear from winning author, Jon McGregor, for his novel, Even The Dogs.
Actor and director Dylan Tighe plays a track from his debut album, Record, in the Works studio the evening before he premieres the entire album at the Cork Midsummer Festival as an 'alternative opera'.

21st June 2012, 11.10pm, RTÉ One