Thursday 21st March, 11.05pm, RTE 1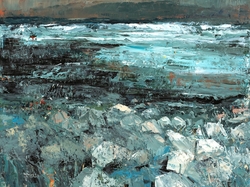 On The Works this week, John Kelly meets landscape artist Donald Teskey at the Oliver Sears Gallery, Dublin, where his new exhibition Ocean Frequency is on display.
Writer/lecturer Harry Browne and actress/singer Bronagh Gallagher review Good Vibrations, the true story of Terri Hooley, whose record store and label, also called Good Vibrations, played a key role in the punk music scene in 1970s Belfast. Think the Undertones, John Peel...
Nadine O'Regan interviews Hugh Howey, US author of Wool, a self-publishing phenomenon in the sci-fi genre. Set in a world where humanity is forced to live in an underground bunker because the air outside is toxic, the book has also been optioned for film rights by producer/director Ridley Scott.
The Works catches up with Theatre Témoin, an international, London-based, physical theatre company whose play, The Fantasist, reveals a colourful night in the life of Louise and the world of bipolar disorder. See them at: Town Hall Theatre, Galway 20th Mar, Wexford Arts Centre, 21st Mar, Droichead Arts Centre, Drogheda, 26th Mar and Mermaid Arts Centre, Bray, 27th Mar.
Also on tour, until 27th March, and providing the music tonight is Ghost Trio, singer Iarla Ó Lionáird, Cleek Schrey on fiddle and Ivan Goff on uilleann pipes. www.musicnetwork.ie
Credit: Did you spot the image in the film review? It's Sand in Motion, The Pigeon House by Enda Cavanagh, from The Copper House Gallery, Dublin. www.thecopperhousegallery.com