8.30pm, Friday, 21st February, RTÉ One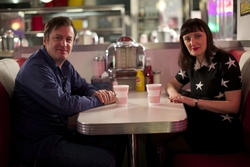 Novel
Better known perhaps as lead singer and songwriter of US alt-country band Richmond Fontaine, Willy Vlautin (pictured) tells Sinéad Gleeson about his fourth novel, The Free - three stories from traumatised contemporary America, Leroy, a wounded Iraq veteran, Pauline, a nurse, and Freddie, a nightwatchman at a home for disabled men. Published by Faber.
Music and poetry
Canadian country singer Lindi Ortega plays the track Hard As This from her album Tin Star and talks to John Kelly.
Belfast poet laureate Sinéad Morrissey reads extracts from Parallax, the collection, published by Carcanet, that has just been awarded the TS Eliot Prize for Poetry.
Film
Journalists Patrick Freyne and Roe McDermott review Only Lovers Left Alive, the latest film from US indie director Jim Jarmusch. Tom Hiddleston and Tilda Swinton play Adam and Eve, vampires and lovers who reunite in Detroit where he is living as a reclusive, disillusioned rock star. And it turns out even vampires have tricky younger sisters... Only Lovers Left Alive opens at selected Irish cinemas on 21st Feb.
Theatre
Louis Lovett is Mr Foley, the Radio Operator, an old man with aches and pains, a long memory and a precious radio. Theatre Lovett took time out from their national tour to perform an excerpt for our cameras and to talk theatre for young audiences. www.theatrelovett.com
Art
A look back at the work of artist Patrick Scott (1921-2014) who died a day before his retrospective Image Space Light opened at VISUAL Centre for Contemporary Art, Carlow, and IMMA, Dublin. www.visualcarlow.ie / www.imma.ie