Thursday 21st Feb, 10.45pm, RTE 1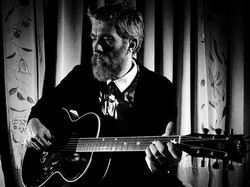 Currently on tour with his first album, If Not Now Then When?, Ethan Johns (right) is better known as producer than musician in his own right, having worked with an impressive roster of names including Laura Marling, Ray LaMontagne and the Kaiser Chiefs. The Works caught up with Johns in Exeter but Irish fans can see him live at the Sugar Club, Dublin on 22nd Feb.
Seven days it takes to destroy Walter Thirsk's village, at a time when enclosures are changing the landscape of England and an ancient way of life forever. John Kelly interviews author Jim Crace about Harvest, his new novel.
The Most Conservative Game in Town is the intriguing title of a new exhibition by Nevan Lahart, an artist so indescribable that we're pointing you to his extraordinary website instead - www.nevanlahart.com The show runs at the Kevin Kavanagh Gallery - where he gave us an interview for tonight's programme - until 16th March.
John Kelly talks to UK jazz band Get the Blessing, who claim influences from The Ramones to Albert Ayler, while on tour in Ireland, 19th to 24th Feb, details www.musicnetwork.ie
Also on tour, CoisCéim Dance Theatre give us a glimpse of their new show Pageant, by David Bolger and Muirne Bloomer, 23 Feb to 19 March www.coisceim.com