Nadine O'Regan meets Terry Pratchett ...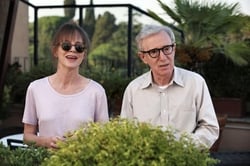 creator of Discworld and guest speaker at the Creative Writing course at TCD.
John Kelly interviews debut novelist Liza Klaussmann, great great great grand-daughter of Herman Melville, about her post-WWII family saga, Tigers in Red Weather.
We review two new films: Woody Allen's To Rome With Love, starring Alec Baldwin, Penelope Cruz and the director himself, and the documentary, Diana Vreeland: The Eye Has To Travel, a portrait of the legendary fashion icon.
Kevin Gildea gets to grips with performance artist Nigel Rolfe, in advance of Remnant, a performance artist symposium in Ballina, Co. Mayo on 29th September.
And Steve Cooney plays us out in The Works studio. Catch him live at Vicar St on 30th September with special guests including Christy Moore and Iarla Ó Lionaird.