Thursday 20th June, 11.10pm, RTE 1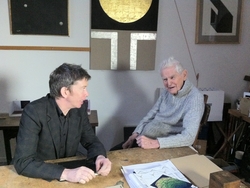 John Kelly interviews artist Patrick Scott (pictured) at his home about those famous gold paintings and a life spent making art.
Journalists Edel Coffey and Mick Heaney review Before Midnight, the latest instalment in the lives of Jesse (Ethan Hawke) and Céline (Julie Delpy), a couple previously encountered in Before Sunrise (1995) and Before Sunset (2004).
Writer Elaine Murphy tells The Works about her second play, Shush, now at the Abbey Theatre. It's Breda's birthday but she's having such a tough time - husband gone, job about to go - that her friends decide to stage an intervention in the guise of an impromptu birthday party. Deirdre Donnelly plays Breda and Fishamble's Jim Culleton directs.
First-time feature director Ciarán Foy talks to Peter Murphy about his urban horror film, Citadel, winner of awards at last year's Galway Film Fleadh and the SXSW in Austen, Texas.

The Believer is the new album by singer/songwriter Cat Dowling, formerly of Babelfish and Alphastates. Tonight she performs Come On, the current single, on The Works. See www.catdowling.com for tour dates.

Image credit, film review: Knot from the Rag Tree by Abigail O'Brien courtesy of The Copper House Gallery www.thecopperhousegallery.com