Thursday 19th September, 11.10pm, RTE 1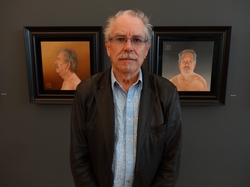 Artist Robert Ballagh (pictured) tells art critic Cristín Leach Hughes about his new show, SeVen, at the Crawford Art Gallery, Cork. The exhibition is made up of seven self-portraits painted last year and seven portraits of political and cultural figures including Fidel Castro and James Joyce.
Kevin Gildea meets John Cooper Clarke, witty punk-infested performance poet and all-round legend, who performs the infamous Chickentown for The Works.
Novelist Peter Murphy and arts journalist Sophie Gorman join John Kelly to review Bleeding Edge, a new novel from US literary giant Thomas Pynchon. In his latest epic, he pits independent investigator Maxine Tarnow against con artists in the early days of the pre 9/11 internet, a world that might have been made for such an entertaining and committed conspiracy theorist as Pynchon.
John Kelly talks to Ray Yeates, Dublin City Arts Officer, about Culture Night (Friday 20th September this year) and gets a sneak preview of some of the more surprising offerings, including a performance on a bus...
The Staves are Emily, Jessica and Camilla Staveley-Taylor, three sisters from Watford, north London whose American-flavoured folk rock music is suffused with otherworldly harmonies and acoustic guitar. In Dublin for two gigs at the Pepper Canister Church, they play Gone Tomorrow on The Works.
Image credit: you can see Trench by Helena Korpela in the background of the book review, courtesy of The Copper House Gallery.