Paul Auster describes his Winter Journal to John Kelly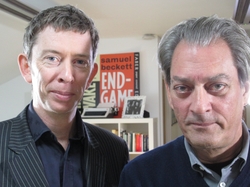 and Sinéad Gleeson and Gerry Stembridge review the biography, Every Love Story is a Ghost Story: A Life of David Foster Wallace.
We go behind scenes at this year's Wexford Opera Festival, from 24 Oct to 4 Nov. There's music from Armenian jazz pianist, Tigram Hamasyan, who plays Mermaid Arts Centre, Bray on 27th Oct, and from Jaime Nanci and the Blue Boys, in advance of their show at the Odessa Club, Dublin on 2nd Nov, celebrating the music of Nina Simone.
Anyone passing the Hugh Lane Gallery in recent months will have seen Suzanne, the striking animated LED figure by British sculptor Julien Opie, in constant motion on the same spot just outside. In this video by electronica outfit SlowPlaceLikeHome, Suzanne heads to Dollymount Strand on a nighttime excursion. There Go The Lights Again, directed by Jules Hackett.
The Works, Thursday 18th Oct, 10.45pm RTE 1