8.30pm, Friday, 26th September, RTÉ One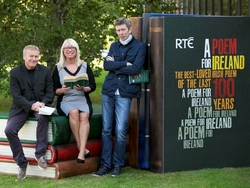 A Poem For Ireland
Pictured here with Anne Doyle, one of the APFI judges, and Niall McMonagle, poetry editor, educator and special APFI advisor, John Kelly launches a new RTÉ campaign, A Poem for Ireland, in partnership with The John Murray Show and in association with Poetry Ireland. We're asking the public to nominate their best-loved Irish poem of the last 100 years. Nominate your poem at www.rte.ie/apoemforireland !

Music
Jack White - Detroit songwriter, producer and former-White Stripe - tells Sinéad Gleeson about his current solo album, Lazaretto. www.jackwhiteiii.com
Theatre
Reporter Angela Dorgan gets a taster of what's in store at this year's Dublin Theatre Festival - including The Seagull and Other Birds, a new take on Chekhov from Pan Pan; Vardo, the last part of the Monto Cycle from ANU Productions; Réiltín, the first Irish-language premiere at DTF in 17 years, written/directed by Paul Mercier and produced by Fíbín Teo and The Way Back Home by Branar Téatar do Pháistí and Teater Refleksion, Denmark. www.dublintheatrefestival.com
Performance art
Sadly, the Tiger Dublin Fringe Festival has been and gone before we go to air but we did film 2Fik does Strongbow (and Aoife), part of an extraordinary eight-hour performance at the Festival, in which Montreal-based photographer and performance artist 2Fik plays more than 80 characters from the famous Daniel Maclise painting, The Marriage of Strongbow and Aoife. www.2fikornot2fik.com www.fringefest.com
Competition
Follow us on Twitter (@RTETheWorks and @rte) for this week's competition, the stunning 69-CD box set of recordings by Maria Callas, courtesy of Warner Music.