Thursday 18th April, 11.05pm, RTE 1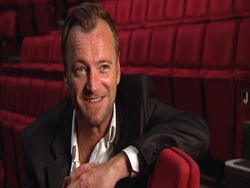 Writer Richard Dormer (pictured) and director Sean Holmes tell The Works about new play Drum Belly, now on at the Abbey Theatre. In the summer of 1969, man is walking on the moon, and one Brooklyn Irish gang, led by Gulliver Sullivan (Declan Conlon), is attempting a truce with the Italians. Then some money goes missing.
John Kelly meets artist Seán Scully to talk about the exhibition Doric, a series of paintings celebrating classic Greek culture, at the Hugh Lane Gallery, Dublin.
Australian singer-songwriter Paul Kelly took to the streets to play the track I'm On Your Side from the album, Spring & Fall.
Nadine O'Regan interviews Gerard Barrett, director of the debut feature film Pilgrim Hill. A tale of a middle-aged farmer in rural Ireland, it was shot in seven days in Kerry on a budget of €4,500.
Ann Mulrooney, director of the National Craft Gallery, Kilkenny, shows The Works around The Nordic Effect, a pair of exhibitions featuring mixed media art and craft from Finland and Norway.