Thursday 16th May, 11.15pm, RTE 1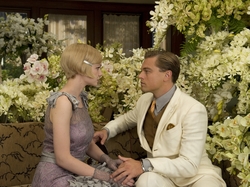 Journalists Roe McDermott and Mick Heaney review The Great Gatsby, a film from Baz Luhrmann (pictured). Leonardo di Caprio plays the lead, Tobey Maguire is the narrator Nick Carraway and Carey Mulligan is Daisy Buchanan. www.thegreatgatsbymovie.com
Amy Conroy, actor and writer from the company HotForTheatre, talks to The Works about her show, Eternal Rising of the Sun, in which she plays Gina Devine, a vulnerable funny young woman who loves to dance. Eternal Rising finishes its tour at Draoicht Arts Centre, Blanchardstown, on 23rd and 24th May, to be followed by a nationwide tour of another HotForTheatre production, I heart Alice heart I. www.hotfortheatre.com
John Kelly asks writer Theo Dorgan about his debut novel, Making Way, a love story between two people who meet in a port in Sicily and sail round the Mediterranean together.
In rehearsal for this year's Dublin Dance Festival, 14th to 26th May, Irish choreographer and dancer Fearghus Ó Conchúir gives The Works a preview of his new solo show, Cure. www.dublindancefestival.ie
Artist Seamus Nolan shows Kevin Gildea his new exhibition, 10th President, at the Temple Bar Gallery + Studios, aimed at commemorating those who experienced institutional abuse in Ireland. On 20th May, the third anniversary of the Ryan Report, he will hold a ceremony to make Willie Delaney, a child who died in Letterfrack, honorary President of Ireland for the day. www.templebargallery.com
And we take a look at the Sculpture at Lyons exhibition - 40 artists working in stone, steel, bronze and glass - which runs until May 26th at the Lyons Estate, Newcastle, Co. Kildare.
Image credit, Gatsby review: North Frederick Street by Vukašin Nedeljkovic courtesy of The Copper House Gallery www.thecopperhousegallery.com