The Works goes skateboarding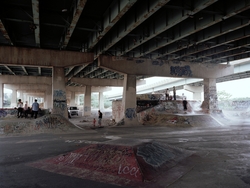 Not a line we'll get to use often, let's face it. Photographer Rich Gilligan spent four years documenting home-made skateparks across Europe and the US (FDR Philadelphia, pictured right) for his new book, DIY. He takes The Works cameras into this parallel world.
Keith Ridgway talks to Sinéad Gleeson about his enigmatic north London novel Hawthorn & Child, shortlisted for Eason Novel of the Year in the Irish Book Awards, due to be announced on Thursday 22nd Nov.
Art and belief dominate this week's films. Edel Coffey and Declan Long review Gambit, with Colin Firth and Cameron Diaz, and The Master, with Philip Seymour Hoffman and Joaquin Phoenix.
Expect comedy and crime in equal measure as Kevin Gildea goes to Kilkenny to meet Holly Carey, programme director of the brand new SUBTITLE European Film Festival (19th - 25th Nov).
Currently on nationwide tour this month is Every Little Step... the Rhythm of Hope, a show that is a mix of African-American stepping, modern and Irish dance. The Works sat in on rehearsals of this co-production between Dance Theatre of Ireland and Soul Steps. Tour dates on www.dancetheatreireland.com
And music from the September Girls in studio!
The Works, Thursday 15th Nov, 11.10pm, RTE 1