Thursday 14th November, 11.15pm, RTE One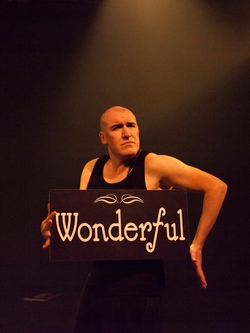 Fishamble brings its production, Silent, to the Peacock Theatre, Dublin this month. Director Jim Culleton and actor/writer Pat Kinevane (pictured) talk to The Works about the story of Tino McGoldrig, living rough on the streets of Dublin. Tour details on www.fishamble.com
Morrissey's Autobiography is undoubtedly one of the book events of the autumn. John Kelly hears from journalists Johnnie Craig and Edel Coffey about the man, the music and the memoir.

Directed by Ridley Scott, The Counsellor stars Michael Fassbender as a corrupt Texan lawyer in league with, and undone by, dodgy nightclub owner Javier Bardem. Author John Connolly and journalist Roe McDermott review.
John Kelly meets Justin Quinn, poet and author of debut novel Mount Merrion, a chronicle of the prosperous Boyle family and of Ireland from 1959 to 2002. In Dublin to play Vicar Street on 16th November, Norwegian singer songwriter Ane Brun plays the track My Star on The Works. www.anebrun.com
Image credit: the prints Fan Death by Damian O'Donohue and Lady Luck by Mark Reihill make a guest appearance during the film review, courtesy of the Copperhouse Gallery, Dublin. www.thecopperhousegallery.com
Contact us via Twitter @RTETheWorks - #RTETheWorks - and email: theworks@rte.ie
Have you seen our first forays into RTE's YouTube channel?
We've posted extended interviews:
Eddie Izzard http://youtu.be/Oxi9slwcLXk
Tommy Tiernan http://youtu.be/SN1M-zwZXYA
And music performances:
Little Green Cars http://youtu.be/ofkn8T9ZsJA

John Smith http://youtu.be/J9yHp3RSk4Y

And So I Saw You From Afar http://youtu.be/7uQGyBHQ2Ho

More to follow... Subscribe and we'll know you've been!