As Bloomsday approaches, all roads lead to James Joyce...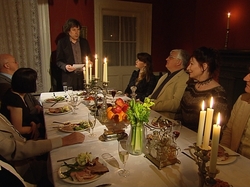 We have dinner (right) with Stephen Rea, Kate O'Toole, Peter Sheridan, Sinéad Gleeson and others in homage to the famous dinner scene in the short story, The Dead, at 15 Usher's Island, the home of Joyce's aunts.
Film maker and travel writer Manchán Magan follows in the footsteps of Joyce in Paris.
At the Sandycove martello tower, playwright Joe Joyce discusses the friendship and falling out between Joyce and Oliver St John Gogarty, the subject of his play The Tower at The New Theatre, Dublin from 11th June.
Joyce and Beckett: US academic Sam Slote talks to Nadine O'Regan about the relationship between the writers.
Sinéad Murphy and Darina Gallagher perform the Invisibility Song from Ulysses in studio.

14th June 2012, 11.10pm, RTÉ One