Colin Farrell, Will Self, Tom Waits ...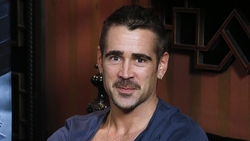 Yes, The Works is back - at the new, improved time of 10.45pm on Thursday 13th September.
Colin Farrell talks to John Kelly about Total Recall, the Arnie remake, in cinemas late August, and Seven Psychopaths, Martin McDonagh's follow-up to In Bruges, due in December.
Left, right, left, Tom Waits goes to war in the stunning video for his new single, Hell Broke Luce, while Nile Rogers invites the audience on-stage during Chic's headline performance at the Liss Ard Festival in Cork. Interference, Bob Mould, Lisa Hannigan and Low Mountain also star.
Kevin Gildea meets Will Self, who, with his new Man Booker-longlisted novel, Umbrella, is back with his own brand of anarchic black comedy.
Scottish abstract artist Callum Innes unveils new paintings at the Kerlin Gallery, Dublin, and Nadine O'Regan visits the Ulysses Opera Theatre Company during rehearsals of their new show, Flatpack: the IKEA Opera, at this year's Absolut Fringe.