Thursday 13th June, 11.10pm, RTE 1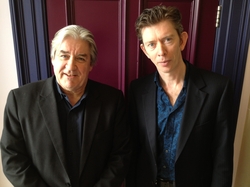 Michael Douglas and Matt Damon play Liberace, outrageous piano-playing superstar of the 1960s and 70s, and his lover Scott Thorson in Behind the Candelabra, Steven Soderbergh's new film for HBO. Journalists Roe McDermott and Patrick Freyne don some Austrian rhinestone to review.
London-born, New York-based author Patrick McGrath (pictured) tells John Kelly about his new novel, Constance, set in 1960s Manhattan, in which Constance Schuyler, a beautiful, disturbed young book publisher, and Sidney Klein, a poetry professor 20 years older, marry in haste but find they can't outrun the past.
About to go on nationwide tour, Deirdre Kinahan talks to The Works about her new play, These Halcyon Days, starring Anita Reeves and Stephen Brennan as Patricia and Sean, an older couple who meet in a nursing home in Dublin. Tour details at www.landmarkproductions.ie
Kevin Gildea meets French photographer Tiane Doan Na Champassak, whose striking, controversial work explores themes of gender identity and sexuality and can be seen in two exhibitions - Showroom and Spleen and Ideal - at the Copper House Gallery, Dublin until 25th June.
And music is provided by flamenco guitarist, Juan Martin, who plays the National Concert Hall on 20th June.

Image credit for film review: Glass /Tryptych by Mario Sughi courtesy of The Copper House Gallery www.thecopperhousegallery.com