Thursday 12th September, 11.10pm, RTE 1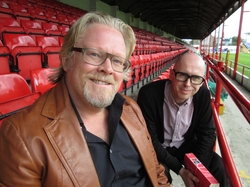 In our first show this season, David Peace, author of The Damned United, returns to the world of English soccer in his new novel Red or Dead, a vivid portrait of Liverpool football manager Bill Shankly. He talks to Kevin Gildea (pictured right).
Louise Lowe, artistic director of ANU Productions, tells The Works about Thirteen, a re-imagining of the 1913 Dublin Lockout in 13 linked performances and installations across the city, over 13 days of this year's Dublin Fringe Festival. And Róise Goan previews her last Fringe as Festival Director.
John Kelly meets Anna O'Sullivan, director of the Butler Gallery, Kilkenny and curator of Constructions, an exhibition of sculptural works by the artist Tony O'Malley at the RHA, Dublin.
Journalists Roe McDermott and Patrick Freyne review Rush, a film set in the glamorous, deadly world of 1970s motor racing, at the height of the rivalry between two of its superstars - James Hunt (for Maclaren) and Niki Lauda (Ferrari). Ron Howard directs and Peter Morgan provides the screenplay.
And in our own tribute to Seamus Heaney, poet Paula Meehan, actor Marie Mullen and author Joseph O'Connor read one of his poems.
Image credit: you can see The Bog on a Fine Day by Maria Simonds-Gooding in the background of the film review item, courtesy of The Copper House Gallery.