Paul Buchanan, formerly of the Blue Nile, tells John Kelly about his new solo album Mid Air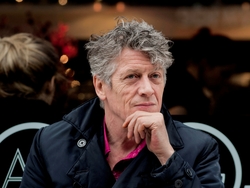 Irvine Welsh takes his Trainspotting regulars, Renton, Sick Boy, Spud and Tommy, through the 1980s, a decade of AIDS, drugs and political conflict, in his new novel Skagboys.
Artistic director Garry Hynes elaborates on DruidMurphy, the forthcoming cycle of three Tom Murphy plays - Famine, A Whistle in the Dark and Conversations on a Homecoming - which Druid will be touring from June. Cast includes Marie Mullen, Eileen Walsh and Aaron Monaghan.
In the third instalment of Ireland's Favourite Painting, Pat Shortt talks images of Ireland in relation to A Connemara Village by Paul Henry and Brendan O'Carroll looks at The Eve of St Agnes by Harry Clarke.
Accompanied by Steve Cooney, Luka Bloom performs a track from his new album, This New Morning, in studio and talks to John Kelly.
11.10pm, 10 May 2012, RTÉ One