8.30pm, Friday, 11th April, RTÉ One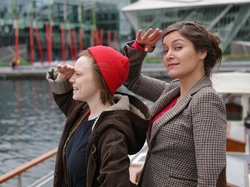 Music
Wallis Bird (pictured) releases the album, Architect, on 11th April and will play Dublin, Cork and Galway later in the month. Tonight on The Works, she plays the first single, Hardly Hardly, and talks to Louise Holden, lead singer of I Draw Slow, about her new tunes. www.wallisbird.com
Film
Journalists Mick Heaney and Roe McDermott review Calvary, starring Brendan Gleeson as a priest in a small rural town on the receiving end of a mysterious death threat. Directed by John Michael McDonagh (The Guard), Calvary also stars Chris O'Dowd, Kelly Reilly and Dylan Moran.
Theatre
The stage phenomenon that is War Horse - 5 million people have seen it since 2007 - is at Bórd Gáis Energy Theatre, Dublin until 26th April. The Works went behind scenes to film an extract. www.bordgaisenergytheatre.ie

Novel
John Kelly meets Timur Vermes, author of Look Who's Back, a bestselling German novel from 2012 now translated into English. Adolf Hitler wakes up in Berlin in summer 2011 to a Fatherland he hardly knows. Mistaken for a famous Hitler impersonator, the media runs wild with adoration. Published by Maclehose Press.
Music Festivals
Sinéad Gleeson talks to Avril Stanley, Creative Director of Body and Soul Festival, Ballinlough Castle, Co. Westmeath, and Laurence Mackin, Arts Editor of the Irish Times, about up and coming music festivals, who's in, who's out, and when a music festival is not a music festival!
Poetry
Slam poet Lewis Kenny performs his poem, Cabra.