8.30pm, Friday, 7th March, RTÉ One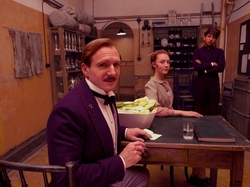 Novel
John Kelly meets Hugo Hamilton whose new novel Every Single Minute tells the story of Úna, a dying Irish writer on her last trip abroad - to Berlin - with her friend Liam. Published by 4th Estate. www.4thestate.co.uk
Film
Sophie Gorman and Angela Dorgan review The Grand Budapest Hotel, the new film by Wes Anderson. Ralph Fiennes (pictured) is Gustave H, eccentric concierge of the titular hotel during its heyday in the 1930s. When wealthy octogenarian Madame D - Tilda Swinton - dies in suspicious circumstances, she leaves Gustave, her sometime lover, a valuable painting. Cue mayhem, greed, comedy and a cast bursting at the seams with star power. Saoirse Ronan (also pictured) lines up alongside Adrien Brody, Willem Dafoe, Jeff Goldblum, Jude Law, Bill Murray, Ed Norton and Owen Wilson.
Limerick City of Culture
The Works goes to Limerick to meet young artists working on neglected urban spaces in the city as part of Draw Out, a regeneration initiative, and Kevin Gildea interviews leading Irish sculptor Michael Warren about his exhibition, Those Who Go / Those Who Stay, at the Limerick City Gallery of Art. www.gallery.limerick.ie / www.limerickcityofculture.ie
Music
To mark this year's Seachtain na Gaeilge - from 1st to 17th March - Kíla lead singer Rónán Ó Snodaigh plays a track from his solo album SOS on The Works tonight with his band, The Occasionals.