Legend is a word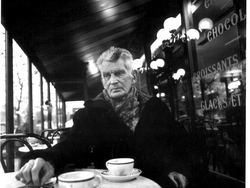 often mis-used these days but in the case of John Calder, the man who published Henry Miller and William Burroughs, among others, it is well-earned. John Kelly catches up with Calder, in Dublin to talk about his great friend Samuel Beckett, on the occasion of a national tour of three Beckett plays - Eh Joe, The Old Tune and Footfalls - details below.
Anthony Sonaghan is a Traveller unwittingly caught up in a family feud that pre-dates him, hiding out in Dublin, telling his and their story in Gavin Corbett's powerful new novel, This Is The Way. Kevin Gildea asks the questions.
15 minutes of off-peak TV brought down Pinochet, Chile's infamous dictator, in 1988. True story. Gael Garcia Bernal (Y Tu Mama Tambien, Amores Perros, Babel) stars in No, the screen version of this improbable tale, which opens in cinemas here on 8 Feb. Sinéad Gleeson interviews him in London.
And music from Josephine Oniyama, soul singer from Manchester, who plays The Sugar Club, Dublin on 14 April.
The Works, Thursday 7th Feb, 10.45pm, RTE 1
Beckett tour by the Godot Theatre Company, London: Draoicht, Blanchardstown, Co. Dublin, 6 Feb; Riverbank Arts Centre, Newbridge, Co. Kildare, 7 Feb; Pavilion Theatre, Dun Laoghaire, 8 to 9 Feb; Carnegie Arts Centre, Kenmare, Co. Kerry, 10 Feb; Everyman, Cork, 11 to 13 Feb; GB Shaw Theatre, Carlow, 14 Feb and Wexford Arts Centre, 15 Feb.