Thursday 6th June, 11.10pm, RTE 1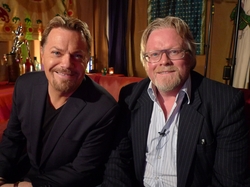 Kevin Gildea meets comedian, actor and marathon runner Eddie Izzard (right), in Dublin in late May for a gig at the O2.
Published by Faber, Here and Now is that increasingly rare publication, a book of letters, in this case the correspondence between authors Paul Auster and JM Coetzee, written in the years 2008 to 2011. Peter Murphy and Sinéad Gleeson join John Kelly to review.
The RHA 183rd Annual Exhibition has just opened, a vast mixed media show including architecture, photography, print, sculpture and painting. Running until 17th August, it offers newer artists the chance to exhibit alongside established names. John Kelly talks to James Hanley, Kate Byrne, Eamonn Farrell, Allyson Keehan, Dragana Jurisic and Paul Quast.
In advance of his gig on 11 June at the Unitarian Church, Dublin, fiddler Martin Hayes plays two traditional tunes, The Wheels of the World and Ryan's Rant. And we show an excerpt from The Enclave by Richard Mosse, a multi-media installation currently representing Ireland at the Venice Biennale. It will also be in exhibition at the RHA, Dublin in 2014.
Image credit for book review: Green to Blue I by Mags Harnett courtesy of The Copper House Gallery www.thecopperhousegallery.com