Books to die for, indeed ...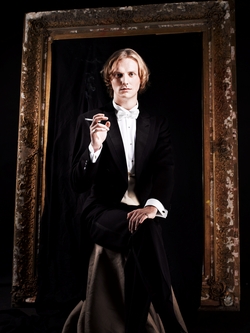 Film director Lenny Abrahamson (Adam and Paul, Garage) talks to Sinéad Gleeson about his new film, What Richard Did, loosely inspired by the novel, Bad Day in Blackrock by Kevin Power, and starring Lars Mikkelsen (The Killing), Lorraine Pilkington and Jack Reynolds.
Director Neil Bartlett takes us into rehearsals of The Picture of Dorian Gray at the Abbey Theatre, the first time the stage version of Oscar Wilde's famous tale will be seen at the National Theatre, with Tom Canton playing the lead role (pictured right).
John Banville and Arlene Hunt discuss their favourite crime writers, as revealed in the handsome new anthology, Books To Die For, edited by Declan Burke and John Connolly, and featuring contributions from more than 100 of their peers, including Jo Nesbo and Elmore Leonard.
Emma Donoghue tells John Kelly about her new play, The Talk of the Town, about the writer Maeve Brennan, at the Dublin Theatre Festival and her new short story collection, Astray.
Adrian Crowley plays the single, The Saddest Song, from his new album, I See Three Birds Flying, in studio.